Gen5 Logiciel Caractéristiques pour la détection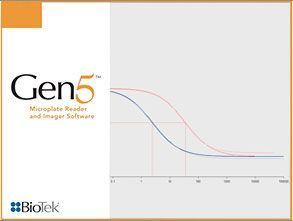 Gen5™ offers powerful functionality microplate reading, Enabling applications from micro-volume nucleic acid quantification to long-term cell-based kinetic assays.
The fluorophore spectra utility in Gen5 facilitates filter selection
Gen5 Software offers a unique combination of power and ease ­of ­use that drives productivity and saves time across all imaging and detection workflows.
Applications
Gen5 logiciel prend en charge les applications de Myriad, activée à l'aide de lecteurs de microplaques BioTek. À partir de la saisie des données grâce à l'analyse d'exporter des données de publication, Gen5 offre une interface workflow dans une interface simple.
La saisie des données à partir de tous les multi-mode BioTek et single-mode
Dans des essais de microplaques, Petri et plat de culture cellulaire et cuvettes
Qualitative and quantitative essays, noeud final, et cinétique
EC50 determinations, Parallèlement, l'analyse spectrale, analyse en ligne
Micro-volume direct de l'analyse des acides nucléiques